Sign Up for Studies
---
Once you are registered for the subject pool, you will receive periodic emails informing you about upcoming experiments. Also check our Facebook and Twitter for upcoming experiment notifications and our Participant Calendar for an easy-to-view list of studies.
Learn how to sign up for studies using the links below.
Sign into your account at
berkeley.sona-systems.com
and click "View Available Studies."

Here you will see a list of available studies. Click on the study name to see if you are eligible to take the study.
If you are eligible, pay attention to some important study information such as pay rate and duration. Click "View Time Slots for This Study" if you wish to sign up.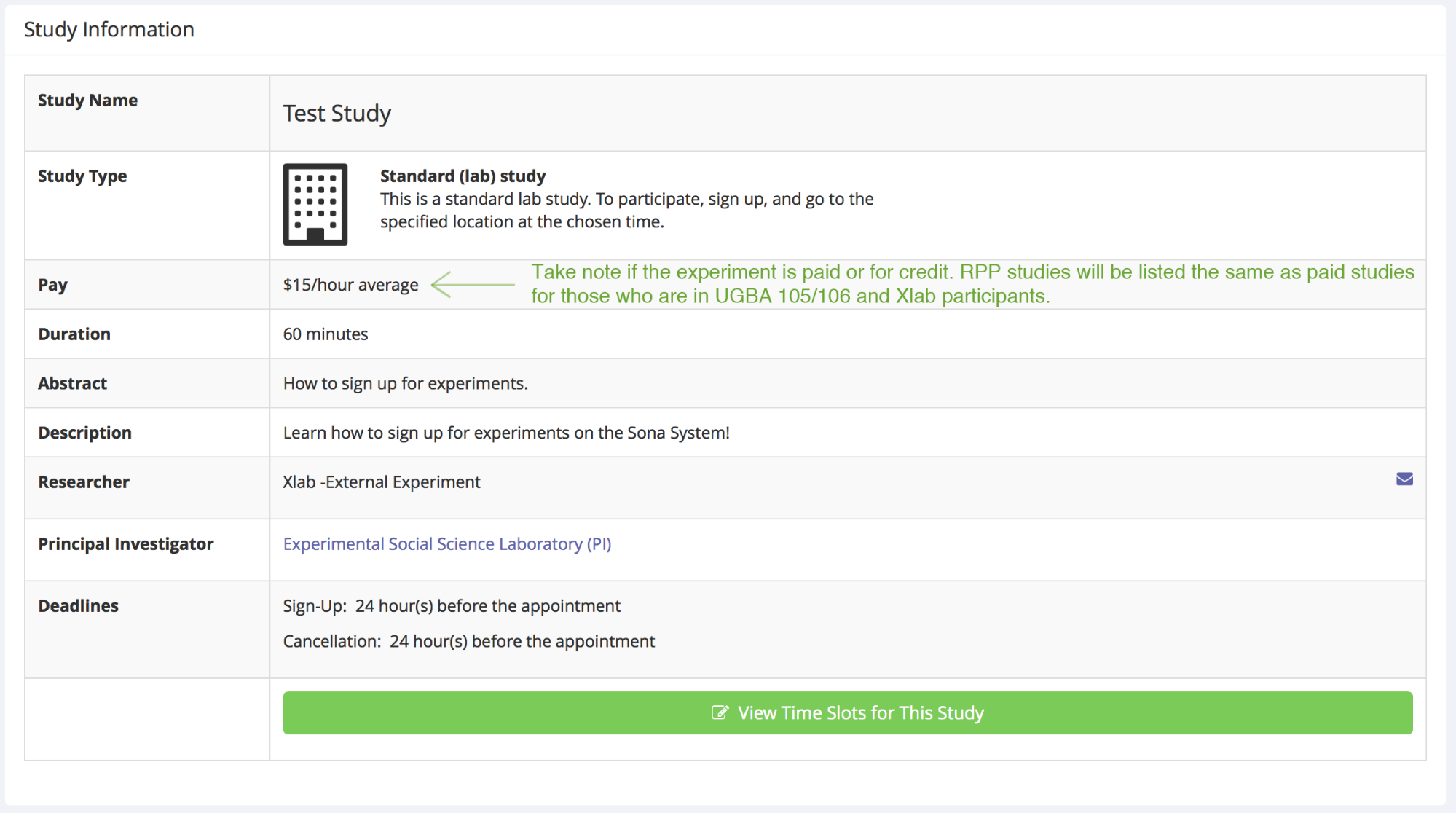 Find a timeslot that fits your schedule and click "Sign Up." You will receive a confirmation email and, in some cases, a reminder email the day before the experiment.

Xlab Rules & Policies
In order to participate in experiments, you must:
Register with Berkeley Sona
Be 18 years or older
Be a UC Berkeley Student or Staff member
Show your valid Cal ID when taking an experiment
Be at the experiment room on time—NOT Berkeley time
Four No-Show Policy
If you sign up for an experiment and do not show up, you will receive a "no-show"
Four accumulated no-shows and your account will be disabled from signing up in future experiments
In order to avoid no-shows, cancel out of an experiment you cannot make on Sona 24 hours before the experiment is to take place
First Come, First Serve Policy
Some researchers over-recruit for their experiments, so you are never guaranteed a spot to participate
If the experiment is at capacity and you are present before the start time, you will be compensated $5 for showing up on time and not being able to participate
We recommend showing up 5-10 minutes before the experiment to help ensure your spot to participate
Xlab experiments that take place in-lab are generally paid by check
Any participant is eligible to cash their check with a teller at any Bank of America with the check and a photo ID—you do not need a Bank of America account
Online experiments may be paid virtually with Amazon.com gift codes, Paypal transfers, Berkeley Prepaid Virtual Visa, or others. Experiments will say on the Study Information page how the experiment will be paid
Why Should I Cancel?
If you sign up for a study and know you cannot make it, you should cancel your timeslot to avoid receiving a "no-show"
Accruing 4 no-shows automatically disables you from signing up—by canceling, you will not receive a no-show
Arriving after the experiment start time may also result in a no-show
How to Cancel
The cancellation deadline is 24 hours before the start of the experiment
Log into Berkeley Sona
At the top of the page, click "My Schedule/Credits"
Click the cancel button for the appropriate experiment.
If the cancel button is not visible, then the cancellation deadline of 24 hours has passed. Email Xlab ASAP to let us know you will not be attenting the experiment.
Participant Calendar
Log in to your Berkeley Sona account, or click on the link in the calendar description below, for more information on location, description, payment, and to sign up for a study.