How to Participate
---

What We Do
UC Berkeley Researchers conduct a variety of experiments and studies at Xlab. These may involve decision-making tasks, surveys, games, interviews, and group activities. Many experiments are held in the Business Library, but we also offer online and mobile experiments that you complete remotely. Studies compensate your participation on average with $20 per hour.
You must be 18 years or older and a UC Berkeley Student or Staff to participate.
Please note that berkeley.sona-systems.com, used by Xlab to post studies, includes paid studies from Behavioral Lab and Psychology Department. Different labs may operate under different rules, policies, and procedures. Please refer to their websites to be informed and take careful note of the location when signing up for experiments: Behavioral Lab website, Psychology website.
Why Join?
Becoming a participant at Xlab offers a wide range of benefits which include
Earning money — fundraise for your club, organization, cause, or for personal money
Partaking in Berkeley's world famous research
Flexibility — you choose a time that is best for you​
No experience necessary — you just need a valid UC Berkeley ID card
Register for the Xlab Participant Pool
You must create an account with the Berkeley Sona-Systems (Sona), a website for you and the Xlab Administration to keep track of your studies and participation. For more details on how to create a Sona account, click the links below.
Note: Participants may only open one account per valid student ID number and Berkeley email. You must be at least 18 years old and have a valid UC Berkeley student/staff ID and email to register.
Read Consent to Particiapte in Research in the left hand column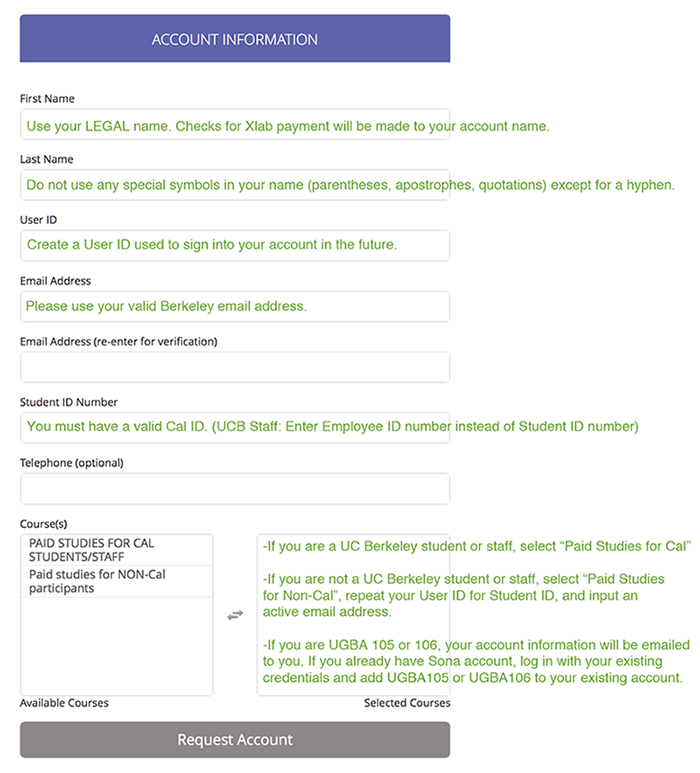 Once you have registered, you will receive an email with a random password. Log in to your new Xlab Sona account to change your password and complete the short online questionnaire (pre-screen survey).